2+3 years warranty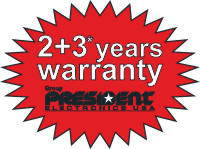 This device is guaranteed 2 years parts and labour in its country of purchase against any manufacturing defects validated by our technical department. PRESIDENT After Sales Service department reserves the right not to apply the warranty in the event a breakdown is caused by an antenna other than those distributed by PRESIDENT. An extension of 3 years warranty is proposed systematically for the simultaneous purchase of a device and a PRESIDENT antenna, bringing the total duration of the warranty to 5 years. In order to be valid, the warranty registration must be completed and submitted within a period of 30 days after the purchase date to PRESIDENT ELECTRONICS online at www.president-electronics.us/warranty-registration. You will receive a confirmation email if the registration is successfully completed. Please keep a copy of this email for your records.
Any repair under warranty will be without charge and the return delivery costs will be paid by PRESIDENT. A proof of purchase sales receipt must be included with the device to be repaired. The dates listed on the warranty registration and proof of purchase must match. In case the device is not under warranty, the repair and return of the device will be charged.
No spare parts will be sent nor exchanged by PRESIDENT under warranty. Do not proceed with the installation of the device without reading the user manual.
The warranty is only valid in the country of purchase.
Exclusions (not covered by Warranty):
Damages caused by accident, shock or inadequate packaging.


Power transistors, microphones, lights, fuses and the disrespect of the installation and use of specifications (including but not limited to antenna used with too high power, final output power transistors (SWR), inversion of polarities, bad connections, over voltage…).


The warranty cannot be extended due to the non-availability of the device while it is being serviced at PRESIDENT After Sales Service department, nor by a change of one or more components or spare parts.


Transceivers which have been modified. The warranty application is excluded in case of modification or poor maintenance done by a third party not approved by PRESIDENT ELECTRONICS.
If you note a malfunction:
Check the power supply of your device and the quality of the fuse.


Check that the antenna, the microphone are correctly connected.


Check that the squelch level is properly adjusted; the programmed configuration is the correct one.


In the event of a real malfunction, please contact your dealer first ~ they will decide what action should be taken.
In case of an issue not covered by warranty, an estimate will be established before any repair.